Project Overview
Design Scheme - Installation & Commissioning
This customer has an old production line which is used for crushing basalt for less than 3 years. They adopted equipment from other domestic manufacturers before, but its capacity was dissatisfying and high maintenance cost was needed. The production line has changed main equipment within 3 years. Finally, in December 2015, the customer decided to purchase machines from SBM: two sets of HST315 single cylinder hydraulic cone crusher, one PE900 * 1200 jaw crusher. Now the host device HST315 single cylinder hydraulic cone crusher using the current top intelligent control methods in china, after the transformation of installation and commissioning, has been put into running for about three months. Besides, the production of sand and gravel aggregate is excellent. It is very popular even if there is a higher price in building materials market.
Project Background
Influenced by "B&R" Initiative and "13th Five-Year" plan, China is to increase investment in infrastructure. "The Belt and Road" initiative involves more than 60 countries. Infrastructure construction is in the accelerating period with total investment up to $6 trillion. 2016 China Railway Corporation plans to complete the investment 800 billion yuan. During"12th Five-Year", fixed assets investment on railways achieved 3.58 trillion yuan. Infrastructure construction needs a large number of sand and gravel aggregate, so high-quality sand aggregate production has become a craze for many enterprises.
Quarrying costs of natural sand become higher and higher after years of excess quarrying, which causes natural sand resources are rapidly reducing. Natural sand has been nearly exhausted in many areas. However, natural sand is non-renewable, so some areas make regulations to strictly prohibit the exploitation of natural sand, in order to maintain the natural landscape, protect dyke dam and protect the ecological balance.
Under the influence of policy and environmental factors, Shijiazhuang, Hebei, encourages enterprises to promote machine-made sand production for protecting ecological environment.
Basalt has the advantages of high compressive strength, low crushing value, strong corrosion resistance, good adhesion, etc. It has been recognized as the best material in the construction of highway, railway and airport runway in the world. Not only that, basalt is also aggregate source of high-rise buildings or lightweight concrete because it is hard and porous. It can make concrete lighter with the admixture in concrete. Besides, it boasts sound and heat insulation. It has won favor from the major building material markets.
Basic Introduction
Raw material: basalt, above 750mm
Moh's Hardness: 7 or above
Output Size: 0-5mm、5-12mm、12-24mm、24-31mm、31-40mm
Capacity: 450-500TPH
Application: mixing station, road construction, high-speed rail construction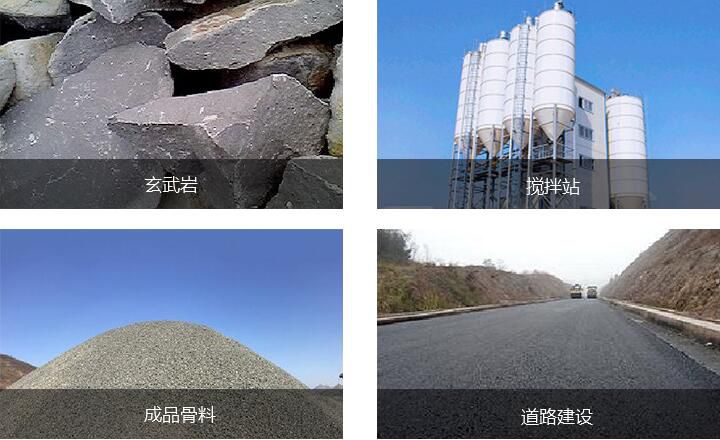 Equipment Configuration
According to the requirements of customers, finished products include five kinds. So for the configuration of production line, SBM engineers replaced coarse and fine crushing equipment with low capacity and efficiency. At the same time a multi-level product screening was equipped with PLC intelligent control and dust removal system which ensure entire production line to be highly efficient and eco-friendly.
The production line consists of PE900 * 1200 jaw crusher, two sets of HST315 single cylinder hydraulic cone crusher, one ZSW420 * 110 vibrating feeders, five sets of 3Y2160 circular vibrating screen, one transfer bin, one dust removal system as well as ten sets of belt conveyor.
| Equipment | Quantity | Use | Operation mode |
| --- | --- | --- | --- |
| PE900×1200 jaw crusher | 1 unit | Coarse crushing | Manual |
| HST315 hydraulic cone crusher | 2 unit | Medium and fine crushing | PLC |
| ZSW420×110 feeder | 1 unit | Coarse feeding | Manual |
| 3Y2160 circular vibrating screen | 5 unit | Medium and fine screening | Manual |
| Transit storage bin | 1 unit | Storage bin | Manual |
| Dust removal system | 1 set | Remove dust | Manual |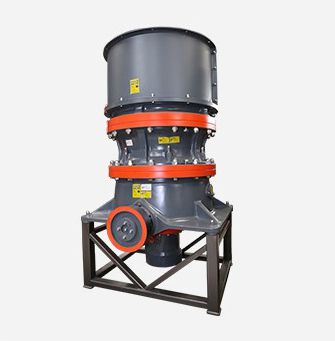 Process Analysis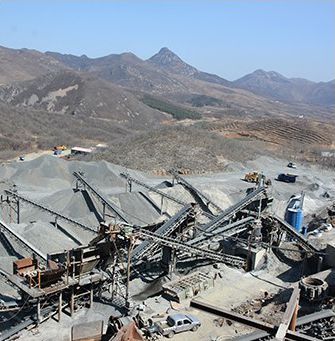 After separation, basalt (20-750mm) is given into primary jaw crusher PE900 * 1200 by ZSW420*110 vibrating feeder, then crushed down to material (0-300mm) which is then transmitted to transfer bin through belt conveyor. Transfer bin is arranged below the hydraulic valve and small vibrating feeder. Next, through the feeder and conveyor, material is sent to two sets of single cylinder hydraulic cone crusher HST315. Following this step, material enters the two sets of 3Y2160 circular vibrating screen and material above 40mm is screened out and sent to transfer bin. Last, three sets of 3Y2160 circular vibrating screen are used to separate material.
The main equipment used by this customer is mainstream equipment in current domestic crushing industry ---HST315 single cylinder hydraulic cone crusher. Apart from advantages of high efficiency, low cost, long service life, the hydraulic cone crusher uses intelligent electronic control system ---a major highlight of the production line. Intelligent electronic control system can provide manual control, constant feed control, multiple row constant power control modes. Users can monitor load of internal crushing cavity in real time so as to optimize the utilization rate of crusher, which makes crusher can play optimal performance at any time; besides, intelligent electronic control system can automatically monitor, alarm and display various operating parameters.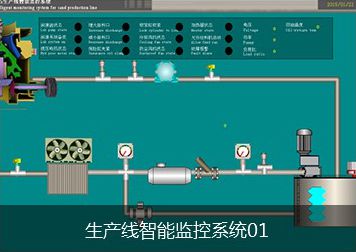 1. Central control system: central control system is a special control tool offered by SBM for large crushing production line or customers having centralized control requirements. The whole system's central control unit is an industrial computer, and the PLC is read through a variety of communication technologies (programmable controller). Furthermore, computer sends commands to control the equipment on site according to equipment status, so as to realize the remote control of equipment record analysis. The printer then prints out the equipment operation report and other functions. The central control system can realize the automation, intelligence and concentration of the production line, which can meet the requirements of the customer and achieve the decentralized management, centralized control:
1). centralized control equipment, remote control, remote parameter setting.
2).data records, historical inquiry, data printing, boot time recording, automatic storage run time.
3). flexible system, convenient operation, powerful function, share resource, high safety performance.
4). the powerful communication function, the system expansion function, the remote control of the Internet of things, user can view equipment status at any time.
5). high degree of automation equipment operation and fuzzy control. Greatly save labor and material costs.
6). realize the monitoring visualization, production line automation, achieve individual start and stop, a key to start and stop, single control and interlock switch, automatic determination operation fault, automatic stop related equipment in fault condition.
7). rapidly complete the production line upgrade based on the optimization of the production process latter.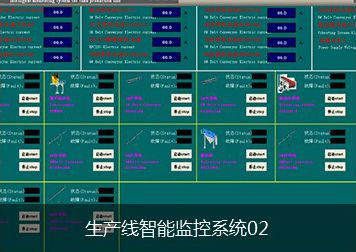 2. Remote monitoring and control system (IOT): this system allows all devices to be connected to network. Wherever users are, they will be able to view machine's availability as long as there is a device having access to the internet and access to remote monitoring control system. What's more, it can also provide instant warning service. Furthermore, when cone crusher is in trouble, we will promptly notify the relevant personnel and provide remote guidance service.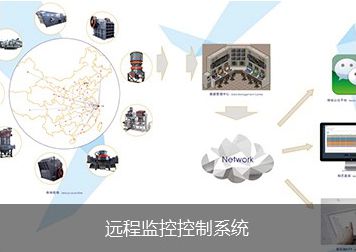 Why Chose SBM?
1. Company strength: SBM is a leading manufacturer of crushers and mills in the world. The products are widely used in mining, metallurgy, municipal engineering, high-speed railway, highway, bridges, ports, airports, water (nuclear) power plants among over 160 countries and regions.
2. Product quality: how do we attract SBM? The secret lies on the output. High-quality finished products help numerous customers make it big. However, high-quality output relies on high-quality production machines. SBM's crushers and mills are popular among so many countries only because the reliable quality of machines. In this case, according to the hardness of basalt --- SBM recommended the HST single cylinder cone crusher whose quality is excellent and what should be mentioned is that it is equipped with intelligent control system, make operation more stable and easier.
3. Considerate scheme : When SBM received the customer, his production line was in production. To avoid economic losses exerted by production disruption, SBM's installation engineers worked overtime for 6 days on site and installed two units and solve other issues completely, so that customers could keep normal production.
4. After-sale service: In the development of more than 30 years, the company's services have always been a good reputation. Under the premise of standardized service, SBM continues to improve the service system. We provide professional technical trainings and assign technical personnel to give on-site guidance, installation and commissioning. SBM services cover more than and 160 countries.
Customer Feedback
We have used equipment of some small domestic factory before. The poor quality forced us to replace the host device within two years, which led high maintenance costs. We learned that SBM has advantages in the aspects of mining after the market investigation, so we buy two sets of single cylinder cone crusher and one jaw crusher in this cooperation. From signing the contract to put into operation, SBM impressed us deeply. Not only does equipment have good quality and but also the service efficiency is very high. Our project will continue to cooperate with SBM later.