PFW Series Impact Crusher (European impact crusher) is mainly used in metallurgy, mine, cement, chemical engineering, refractory materials, ceramics and other industrial sectors, as well as in the expressway construction, water conservancy project, building crushed stone, and machine-made sand process fields, etc.
Crescent Plate Hammer, Simple But Useful
Based on the actual production situations and years of operation stressing simulations of impact crusher, SBM's R&D Center found that the traditional linear plate hammer is liable to wear which will further hinder the materials from hitting the impact surface of plate hammer perpendicularly, thus the crushing efficiency decreasing rapidly. Therefore, we tried different plate hammer designs, and finally chose the crescent plate hammer. Compared with linear plate hammer, this design possesses large impacting force and impact surface, and is more durable.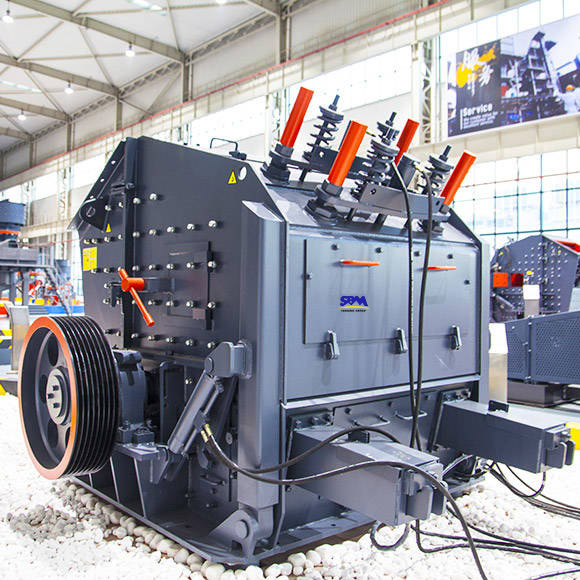 Heavy Rotor & Rigorous Detection Guarantee the Performance of Rotor
European impact crusher adopts firm heavy rotor to obtain higher rotational inertia and counterforce and to enhance its crushing capacity. For the usability of rotor, we adopted rigorous detection method to detect the surface, near-surface and internal defects, so as to guarantee its high quality.
Safety Device of Spring Reduces the Risk of Blocking
We boldly used constant-pressure spring safety device on the impact plate, which is a proprietary technology independently researched and developed by SBM: after the non-crushing material (e.g. iron block) entering into the crushing cavity, the front and rear impact racks will move back, and the non-crushing material will be discharged from the machine; then the impact racks will return to their normal working positions, thus eliminating the hidden danger of machine blocking. The whole process is completed automatically, which greatly reduces the time for manual stopping, cleaning and maintenance, and greatly enhances the production efficiency of the whole production line.
Semi-automatic hydraulic top-opening device realizes faster and more effort-saving maintenance
Allowing for that the wear of quick-wear parts during production and resultant emergency shutdowns for inspection and repair are inevitable, we install two identical sets of screw rods or hydraulic flapping devices on both sides of the rack (Installation depends on the specific models). Through the device, the operation gets easier and the operator can open and close the rear-upper cover to complete the maintenance work easily.
| | | | |
| --- | --- | --- | --- |
| Model | Feed opening (mm) | Capacity (t/h) | Power (kw) |
| PFW1214II | 1100×1430 | 130-200 | 132 |
| PFW1315II | 1200×1530 | 180-320 | 200 |
| PFW1318II | 1200×1830 | 240-400 | 250 |
| PFW1415II | 1450×1530 | 240-450 | 250 |
| PFW1214Ⅲ | 570×1430 | 90-170 | 132 |
| PFW1315Ⅲ | 625×1530 | 180-270 | 200 |
| PFW1318Ⅲ | 625×1830 | 220-300 | 250 |
| PFW1415Ⅲ | 800×1530 | 280-350 | 250 |