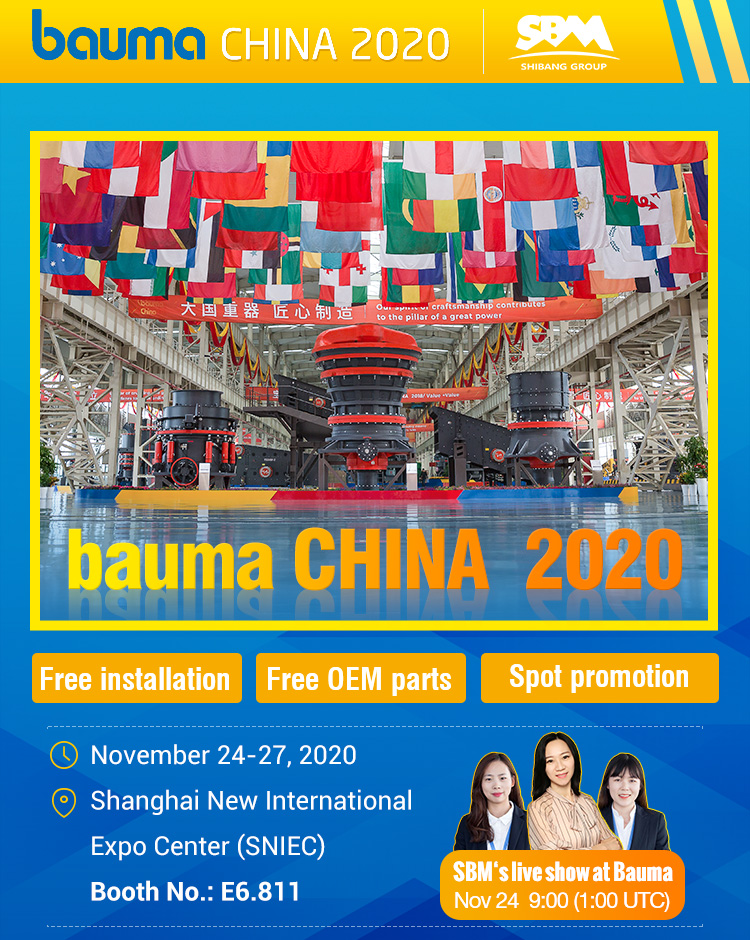 Get a promotion & Watch LIVE
About SBM
No.1export volume ranked No.1

170+customers from 170+ countries

Top 500 partners from Fortune 500
Company Profile
Through 30 years of accumulation, SBM is the only one whose business covers the crushing and the grinding field simultaneously.
SBM's crushers are highly approved in manufactured aggregates production, solid waste>>Read More disposal and mineral processing while grinding mills are popular among coal, mineral powder, power plant desulfurization and other fields.
So far, SBM has cooperated with over 8000 customers from more than 170 countries or regions. Part of them are listed in Fortune 500. The reasons why SBM is so trustable mainly lie in the product quality and favorable price.
For product quality,SBM has built 6 factories. In order to get the most out of customer projects, SBM cooperates with famous brands such as SKF, TIMKEN, ABB and so on, obeys strict standards during manufacturing and sets up a complete after-sales system. "CUSTOMER VALUE FIRST" is the principle that SBM always hold.
SBM Exhibition Hall

It's the largest exhibition hall of crushers and grinding mills in Asia, covering an area of 15,000m2.
Lingang High-end Production Base

Located in Shanghai, SBM high-end production base will show you the advanced manufacturing technology.
Sign up for a visit

Nov. 24, 2020 (a.m.) Launch of upgraded VU Aggregates System
Nov. 24, 2020 (p.m.) Cooperation signing ceremony with SKF
Nov. 25, 2020 (a.m.) Launch of brand-new
Gyratory Crusher
Nov. 25, 2020 (p.m.) Launch of MRN
Grinding Mill
Nov. 26, 2020 (a.m.) Launch of CI6X
Impact Crusher
Nov. 26, 2020 (p.m.) Cooperation signing ceremony with yonyou
Preferential Policy during
bauma CHINA 2020
Signing policy
During the fair (Nov. 20 - 30, 2020), where a contract is signed and becomes effective under the premise of paying a deposit before Dec. 31, 2020, the customer can have the right to enjoy one of promotions below.
30-day free installation guide by a SBM's service engineer (round-trip ticket and insurance included);
Free OEM parts worth 2% of contract amount.
Big sale for specific products in stock
For detailed messages like types, quantity, price and technical parameters, please consult the sales manager.
Sign up for a promotion
Get Solutions & Quotation