B6X series belt conveyor is a new generation bulk material conveying equipment designed by SBM through summarizing the previous experience of belt conveyor during the design, fabrication, installation and using processes, and in close combination with the market conditions and user demands. B6X series belt conveyor adopts C-type steel as the main beam and the modular sectional design, and uses optimized headstock and tailstock structures. It is equipped with reversed adjustable V-type supporting legs; the whole machine is of stable and compact structure and can be easily installed. It is an ideal upgrading and substitute product of traditional belt conveyor.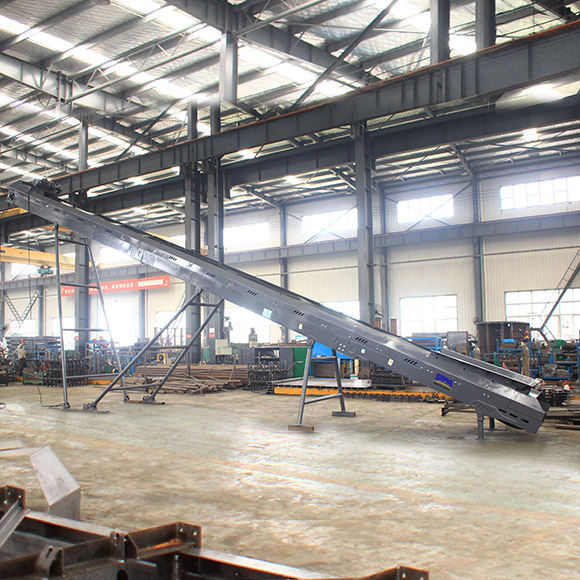 Safer and More Artistic C-type Steel Has Better Steel Property
Generally, traditional belt conveyor uses channel steel and carrier roller frame with the rack relatively thin while B6X belt conveyor uses C-type steel to replace channel steel and equip side protecting plate. Based on this improvement, the overall rigidity of B6X series belt conveyor rack greatly increases.
More Stable Reversed V-type Supporting Leg
Based on the feedback of the customers and installation engineers, the design of "I-shaped abreast channel steel" supporting leg of traditional belt conveyor has a series of other problems including poor stability, loose bolt, complex installation. Therefore, we adopt "reversed V-type" supporting leg in the design of B6X, which is of excellent stability combining with three-link installation structure; the installation procedures are greatly simplified due to the fact that there is no need for fastening with a large number of bolts.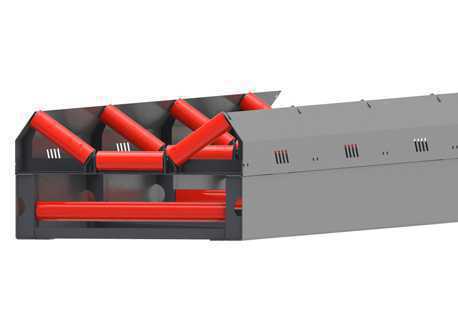 Long-distance Headstock is More Beneficial to Material Falling and Safety
Benefiting from the super-strong rigidity of B6X rack, we can use long-distance headstock design. Based on this design, the maximum radius of material pile is 1.5~2 times that of traditional belt conveyor, which is very beneficial to material falling during the production process, and can effectively avoid the loader or other machines from clashing the belt conveyor rack when shoveling the materials.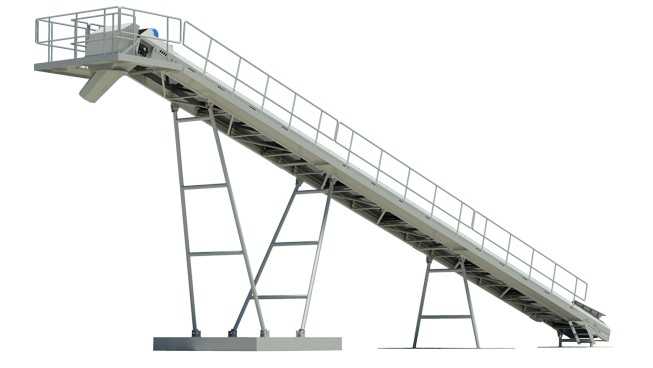 Introduced Cycloidal Reducer with Higher Technical Grade
Based on the customer feedback, the traditional belt conveyor equipped with electric drum is not good to high power driving and easy to heat, and the service life is relatively short. Sometimes it is difficult to find marketable replacing parts in some foreign countries. Therefore, we adopt cycloidal reducer with higher technical grade, which is of greatly enhanced stability and is very convenient for maintenance and replacement.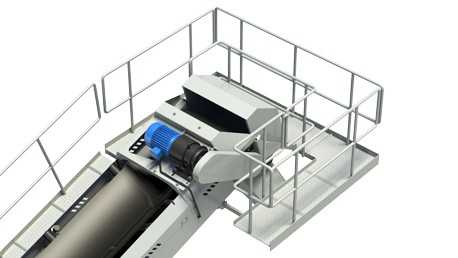 | | | | | |
| --- | --- | --- | --- | --- |
| Model | Belt width(mm) | Belt speed(m/s) | Capacity(t/h) | Power (L≤30m)(kW) |
| B6X500 | 500 | 1.5 | 150 | 4-11 |
| B6X650 | 650 | 1.6 | 250 | 4-11 |
| B6X800 | 800 | 1.4 | 400 | 5.5-15 |
| B6X1000 | 1000 | 1.4 | 600 | 7.5-18.5 |
| B6X1200 | 1200 | 1.4/1.5 | 900 | 11-22 |