CS Series High-efficiency Spring Cone Crusher is a modern high-performance cone crusher designed, researched and developed by SBM on the basis of introducing and absorbing foreign technologies, considering the customer requirements and using the lamination crushing principles and the concept of "crushing more and grinding less". This crusher is integrated with high swing frequency, optimized cavity type and rational stroke.
Inherit Classical Structural Design, Realize Stable & Reliable Performance
The reason why CS series spring cone crusher becomes the most widely used cone breaker both at home and abroad is its reliability under various working conditions; CS series substantially reserves its classical structures, such as spring safety device, large diameter main shaft, heavy rack and dry oil seal, which guarantee the equipment reliability to the greatest extent.
Optional Cavity Types Applicable to Multiple Working Conditions
CS series high-efficiency spring cone crusher has two types, i.e. standard type and short-head type; each type is equipped with multiple cavities, so that it is suitable for the intermediate crushing or fine crushing of materials with various rigidities. A large number of practical applications show that CS series high-efficiency spring cone crusher realizes excellent performance when being used in intermediate crushing operations.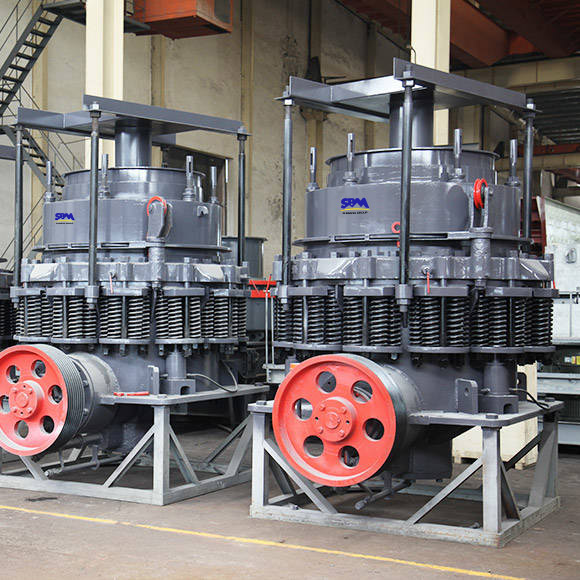 Hydraulic Lubrication System, Simpler Operation
CS cone crusher is equipped with hydraulic lubrication system, through which the user can easily complete the adjustment of equipment discharge opening and the cavity cleaning, thus simplifying the daily operation of cone crusher. In addition, lubricating oil station of this system adopts electric cooling system, which can realize the automatic control of lubrication station and guarantee the lubrication and cooling during operation.
16 Pairs of High-performance Alloy Steel Springs Guarantee the Safety of Crusher
In order to prevent blocking, overload or other emergencies occurring to the crusher when iron block or other non-crushing materials entering the crushing cavity, we install 16 pairs of high-performance alloy steel springs around the CS cone crusher; the overload protective system centered on the springs can effectively guarantee the safety of crusher.
Model
Closed Side
Opening Side
Discharging Opening(mm)
Power (kw)
Capacity (t/h)
Max.Feeding (mm)
CSB75
83
102
9-22
6-75
45-91
159
175
13-38
59-163
CSD75
13
41
3-13
6-75
27-90
33
60
3-16
27-100
51
76
6-19
65-140
CSB160
109
137
13-31
6-185
109-181
188
210
16-31
132-253
216
241
19-51
172-349
CSD160
29
64
3-16
6-160
36-163
54
89
6-16
82-163
70
105
10-25
109-227
CSB240
188
209
16-38
6-240
181-327
213
241
22-51
258-417
241
268
25-64
299-635
CSD240
35
70
5-13
6-240
90-209
54
89
6-19
136-281
98
133
10-25
190-336
CSB400
253
278
19-38
6-400
381-726
303
334
25-51
608-998
334
369
31-64
870-1400
CSD400
51
105
5-16
6-400
190-408
95
133
10-19
354-508
127
178
13-25
454-599